Karen Women Organization
21st September 2012
International Day of Peace
 "Just saying peace is not enough, it needs all of us to take action"
Press here for Karen Women Organization International Day of Peace Statement 2012 Karen Version
Karen Women Organization celebrates the 2012 International Day of Peace with great hope.  The UN declared that this International Day of Peace's theme would be "Sustainable Peace for a Sustainable Future".  We celebrate the recent negotiations for ceasefires and peace in Burma.  We hope this beginning will bring sustainable peace someday soon.
KWO in honoring the International Day of Peace, would like to honor a longstanding female leader, Naw Zipporah Sein, the General Secretary of the Karen National Union (KNU) for her tireless efforts and leadership in the peace talks with the current Burmese Peace Team.
On behalf of KWO, Dah Eh Kler KWO Secretary, warmly welcomed the ongoing ceasefire talks between the Government of Burma and different ethnic groups. She said " In our hearts, we deeply hope this will lead to political settlement and sustainable peace. We believe just saying peace is not enough, it needs all of us to take action."
While we celebrate the ceasefires, our hearts also go out to the Kachin people who have been subjected to violence by the Burmese Army for almost a year.  We know and understand the suffering of Kachin women and children, for we have experienced it in the past.  We welcome the initiative of the Government of Burma for the recent talks.  We also know that real peace takes more than a single leader or group.  It requires all of us to work together as equals.  It is only through the full engagement of all the people of Burma that we can reach this cherished goal.
As the Karen Women Organization we have called for more women in leadership roles in this peace process.  General Secretary Zipporah Sein is one woman who has stepped forward as a leader.  We hope that all parties to the various peace talks will act to include women in their delegations.  Women have a vital role to play in building peace and unity alongside men.  We all must work toward peace, never letting that goal out of our sight.
KWO, on the International Day of Peace would like call on the Burmese military to show that they want genuine peace by stopping all operations within ethnic areas especially within Kachin and Shan States. We also call on all parties to fully implement ceasefire agreements by signing codes of conduct and enforcement mechanisms. Finally we hope the coming year all ethnic groups and the Government will enter into political dialogue to establish a real democracy within a Burmese federal system with equality and dignity.
As we reach for real sustainable peace in Burma, we know it must include rights, democracy and dignity for all the people of Burma.
Contact: 
1. Nan Dah Eh Kler – + 66 857269291
2. Naw Blooming Night Zan – + 66 885455746
Email: [email protected]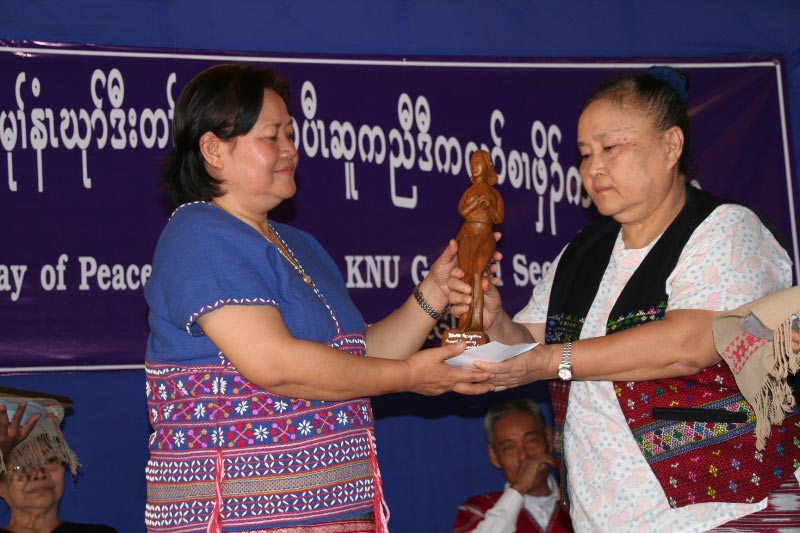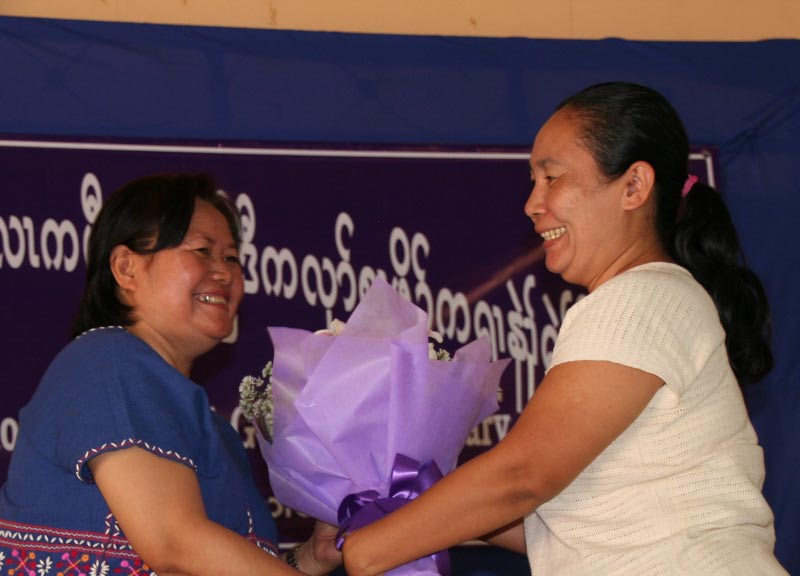 Karen Women Organization International Day of Peace Statement 2012 Karen Version