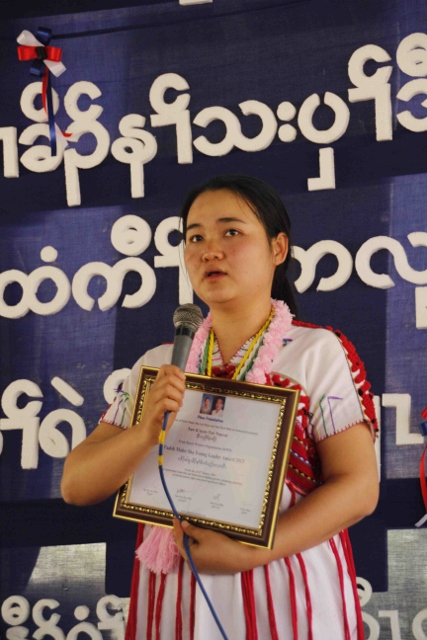 The Phan Foundation is proud to announce that the 2013 Padoh Mahn Sha Young Leader Award goes to Naw K'Nyaw Paw Nimrod, a women's rights activist from the Karen Women''s Organisation (KWO).
In memory of Padoh Mahn Sha Lah Phan, every year, the Phan Foundation recognises an outstanding young Karen leader by honouring them with the Padoh Mahn Sha Young Leader Award. This award comes with a $2,000 grant, to help the winners to continue their community work.  This year, the award ceremony took place in Mutraw on 31st January, on 65th anniversary of Karen Resistance Day.
Naw K'Nyaw Paw is the General Secretary of the Karen Women's Organisation as well as an executive committee member of the organisation. She is responsible for overseeing and implementing all KWO's work including education, health, and social welfare. She is also very dedicated to advocating on behalf of refugees and IDPs especially in the area of women's issues. She works tirelessly and travels internationally in order to raise issues concerning human rights, women, indigenous groups and refugees, in order to get support from the international community. Naw K'Nyaw Paw is one of the first young KWO leaders that initiated and conducted Human Rights and Democracy Training programs along Thai-Burma border in the 7 Karen refugee camps that empowered approximately 1,000 youth within a few years. Her ability to organise young women to become interested in working for the community produces tangible results.
In the nomination letter, Nan Dah Eh Kler, Chairperson of the Karen Women's Organisation, said,"I have worked with K'Nyaw Paw for over 14 years and over this period of time I have seen her grow from a capable young woman to a fearless leader in the struggle for women's rights and equality in the Karen community". KWO is a community-based organisation of Karen women, with a membership of over 49,000, working to empower Karen women to develop their own communities.
"I am deeply honoured to receive the Padoh Mahn Sha Young Leader Award for 2013," said Naw K'Nyaw Paw. "The Phan Foundation is the only Karen foundation to recognise young Karen people leading and contributing to our community and struggle. It is not always easy, either as a woman or as a young person. This honour reminds me, I am not alone, the Karen community is an amazing and supportive place and together we can see a day when our community wins our rights and dignity.  This award is truly not for me alone but belongs to all the wonderful Karen women in KWO that I am privileged to work with. I hope this award will inspire other young Karen women to work hard for the Karen community. Thank you to the Phan Foundation, to my organisation, KWO, and to all of the Karen community."
The award ceremony in Mutraw was attended by Saw Say Say Phan, the eldest son of Padoh Mahn Sha, who said; "Giving the Padoh Mahn Sha Young Leader Award is one of the best ways to honour our father by recognising excellent young Karen leaders and support the work that our father would want to encourage."
The Phan Foundation was set up in 2008, following the assassination of Padoh Mahn Sha, in memory of Padoh and his wife Nant Kyin Shwe. The Foundation works to alleviate poverty, provide education, promote human rights and protect Karen culture.
original link:http://phanfoundation.org/index.php/burma/news-and-reports/news-stories/naw-knyaw-paw-nimrod-winner-of-padoh-mahn-sha-young-leader-award-2013