Naw K'nyaw Paw Nimrod, General Secretary of the Karen Women Organization (KWO) has been selected as the winner of the 2013 Padoh Mahn Sha Young Leader Award, on 31st January 2014, Karen Revolution Day.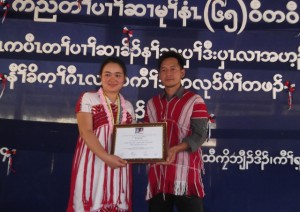 The award ceremony was held on the evening of the Karen 65th Revolutionary Day at Day-Pu-Noh village in the Karen National Union's 5th Brigade in Karen State. The award was presented to Naw K'nyaw Paw by Saw Say Say Phan, one of the founding members of the Phan Foundation.
Saw Say Say Phan spoke about Naw K'nyaw Paw as the recipient of the 2013 at the presenting ceremony.
"Naw K'nyaw Paw grew up in refugee camp and studied in difficult circumstances. However, she took her achievements step-by-step and with her great effort. She has been working for Karen community organizations and as leader effectively. She was selected as the best nominee and we honor her with this award."
Naw K'nyaw Paw has been working for the Karen Women's Organization (KWO) since 1999. She was elected as its General Secretary at the 6th Karen Women Organization Conference held in February 2013.
Naw K'nyaw Paw is a strong promoter of capacity buildings and has run many democracy, human rights and women rights trainings for KWO members. She worked hard to take the Karen struggle to the international community. Naw K'nyaw Paw has advocated on behalf of the Karen people.
Naw K'nyaw Paw Nimrod spoke about winning the Padoh Mahn Sha Young Leader Award.
"I am very respectful of Uncle Padoh Mahn Sha. He was a leader who was very supportive and encouraged young people. I am very happy to receive this award. I did not expect to win it. I received this award not just for my efforts, but it is for each and every one of my colleagues' hard work."
The Padoh Mahn Sha Young Leader Award is organized by the Phan Foundation that was founded in 2008 February 14th with the objective to honor young Karen people under 35, who contributed to their communities and organisations – this is the 6th time it has been awarded. The Phan Foundation was established following the assassination of Padoh Mahn Sha on the 14th February 2008. The Phan Foundation was set up in memory of Padoh Mahn Sha and his wife, Nant Kyin Shwe by their four children.
Original link : http://karennews.org/2014/02/naw-knyaw-paw-wins-pdoh-mahn-sha-young-leader-award.html/