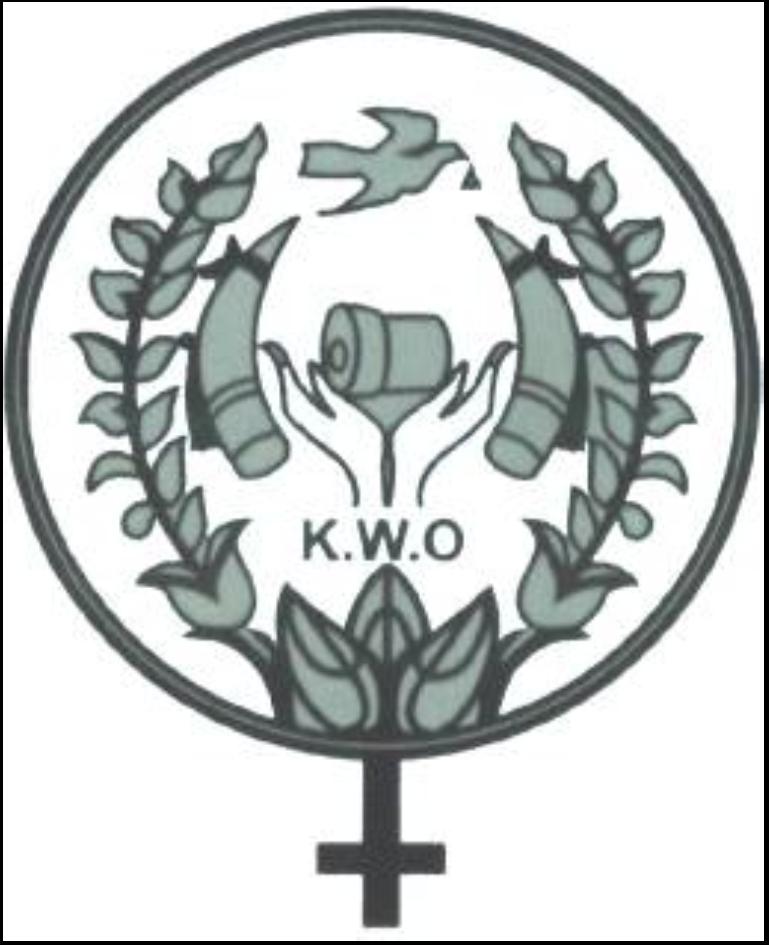 Karen Women's Organization
International Women of Courage Award
March 6, 2019
Naw K'nyaw Paw and the Karen Women's Organization (KWO) are honored this year to accept the "International Women of Courage Award" from the US State Department.  Naw K'nyaw Paw is accepting the award in Washington DC on behalf of the KWO. We were given this award for our "position for consistently condemning the Burma army to end military violence against civilians, for speaking out about the military violence against the Rohingya, and speaking out against SGBV in conflict". KWO gives consistent support for all ethnic women. We work with community women on a wide variety of issues and support including childcare, leadership development, advocacy, health care and education.  KWO works to support women throughout their lives.
The Burmese military violence continues today, increasing in some areas on northern Burma, in the west and beginning again in the south east.  Women and children continue to be forced to run and hide from Burmese Army attacks as we write.
In 2004, KWO released a report "Shattering Silences", highlighting the Burmese Army's sexual abuse to Karen women.  Later KWO released "State of Terror" and later still "Walking Amongst Sharp Knives" all documenting abuse of Karen Women by the Burmese Army.  Then last year the world watched in horror as the Burmese Army unleashed unspeakable crimes, this time against Rohingya women.  Thousands of rapes have been well documented across one ethnic population after another and still these men run the Government and control the lives of our people.  It is time for the world to take action and bring these men to justice.
All indigenous ethnic women are either vulnerable to attack or are currently being attacked by the Burmese Army.  It will not end until the world takes action as a united community against these extreme human rights violations and hold those Generals in charge fully accountable. The peace process has stalled, the removal of sanctions has not brought us greater respect for human rights, it is still unsafe to return, or to speak the truth in our country.  We need targeted sanctions and a body outside Burma to hold the Generals accountable.
While we work for peace we hope the world will not forget the refugees the world over.  For us rations and services have been deeply cut.  Refugees and Internally Displace People in Burma need food, healthcare and education to live.  Please remember those in need as we accept the honors we also hope for resources and assistance for our community.
KWO is accepting this International Women of Courage Award along with 10 amazing women from across the globe who are also being honored.
We have many courageous women in Burma but when we see this group on honorees, we realize just how much we can accomplish when we are not afraid and we work together.  KWO's fellow recipients fight for and serve the neediest across the globe.  Olivera Lakic writes the truth in Montenegro despite threats and attacks. Moumina Houssein Darar brings the rule of law to Djibouti. Magda Gobran Gorgy educates the poorest in Egypt, Colonel al-Twal helps people like me in her own country of Jordan, Marini de Livera brings the rule of law to women and children in Sri Lanka, Anna Aloys Henga defends human rights in Tanzania, Flor de Maria Vega Zapata works to protect the environment in Peru, Razia Sultana brings her legal knowledge to documenting the violence done against the Rohingya, Sister Orla Treacy educates and supports girls in Sudan and Marini help protect women and children in Sri Lanka.  This group touches every part of our lives, all over the world.  KWO is humbled by their work and honored to stand beside them.
Contact: [email protected]