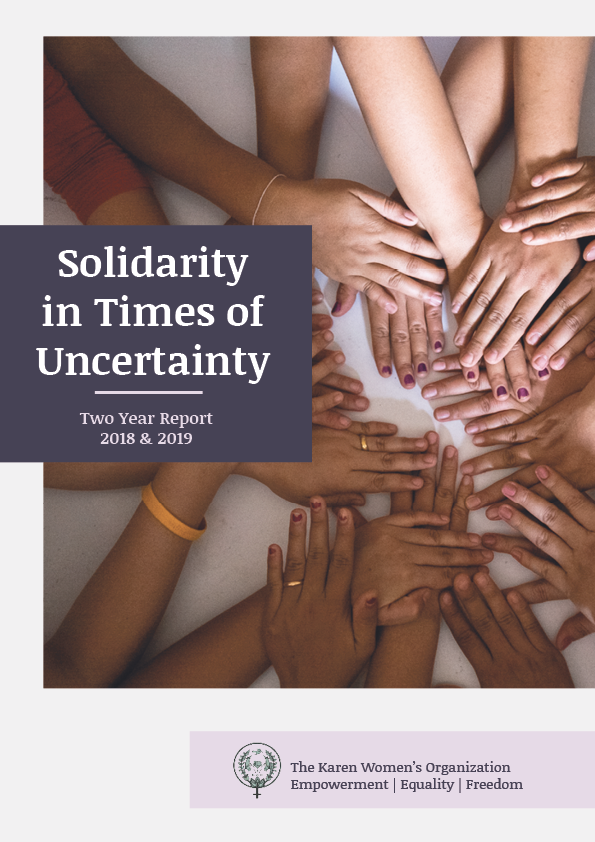 The Karen Women's Organization (KWO) has produced a two-year report which highlights our achievements and in 2018 and 2019. We are grateful to the many who continue to make our work possible. KWO is especially appreciative to our long-term donors: the American Jewish World Service, DAK foundation, the Fund for Global Human Rights, the International Rescue Commission, Inter Pares, The Border Consortium and Planet Wheeler Foundation.

Despite the many challenges that compromise our efforts for peace in Burma's current socio-political environment, we remain committed to our mission and serving our communities.

We value the insights of the many organisations and individuals over the years who have supported us in a leadership capacity, which has in turn strengthened the Karen grassroots women's movement. Our work would not be possible without you.

Our two-year report is a testament to what is possible even in the most difficult of times. We are immensely grateful to our members, networks, friends and donors that grant us the opportunity through funding, time and resources to continue this work.

In Solidarity,
The Sisters of the Karen Women's Organization
Read in full in English here.